Dog Fear Desensitization
Being afraid of dogs affects many more people than we imagine. Indeed, 1 person out of 4 has a fear of dogs (regardless of the fear level). Unfortunately, too few people know this fear can be treated (without medication).
We talk about "traumatic fear of dogs" when a person develops this fear after an attack or after having seen someone being attacked by a dog.
We talk about "dogphobia" when a person doesn't know where his/her fear comes from. This fear might have been transmitted from another person who's afraid of dogs (a parent, friend,…).
Whether we want it or not, whether we like them or not, dogs are part of our daily life as we see them in the streets, we hear them at night (sometimes far too much!). Being afraid of dogs also means submitting to them every day. But it can change! Through a therapeutic process, the fear or phobia can be worked on until it completely disappears.
The therapy dog is never present during the 1st session. He's only introduced when you decide, and in a very progressive way throughout the sessions.
The desensitization dogs must be trained for this job. This means they obey orders, don't jump up, bark, bite, or pull the leash, …
Training a dog for this task takes a long time (2-3 years). It is therefore important that people who want to undergo therapy with dogs know they will only meet safe and secure dogs specially trained for therapy.
Prix : 48€/h
Animal Assisted Therapy
Your child doesn't want to speak, is shy and introverted, has difficulties being assertive with others ? The dog is often a very good therapeutic mediator.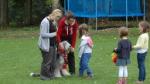 [ Read more ]
Dog Fear Desensitization
Dogs scare you and seeing them daily is really hard for you ? This can change, and permanently, with dog fear desensitization therapy.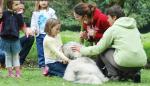 [ Read more ]