Animal Assisted Therapy
The purpose of ATT I is mainly of benefit to kids and teenagers (from 3 to 16) with social/personal difficulties like shyness, lack of assertiveness and self-confidence, low self-esteem, … ATT can also help children who are going through a traumatic time in their life (mourning, parental divorce, …).
These difficulties can be overcome and worked through with, amongst others, the dog. The child learns how to "drive a dog" (as we say in our dog world jargon). Therefore, he needs to find out how to position himself, how to be respected by the dog to make him obey orders at any time. The AAT dog is thus employed as a mediator, a confidante for the child. This is why the dogs are trained for this job. This means they obey orders, don't jump up, bark, bite or pull the leash, …
Training a dog for this job takes a long time (2-3 years). It is therefore important that people who want to undergo therapy with dogs know that they will only meet safe and secure dogs trained for therapy.
Price : 48€/h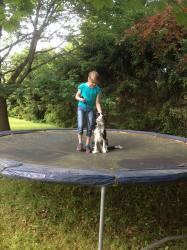 Animal Assisted Therapy
Your child doesn't want to speak, is shy and introverted, has difficulties being assertive with others ? The dog is often a very good therapeutic mediator.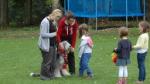 [ Read more ]
Dog Fear Desensitization
Dogs scare you and seeing them daily is really hard for you ? This can change, and permanently, with dog fear desensitization therapy.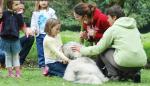 [ Read more ]